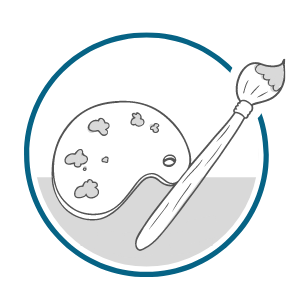 Introduction to Painting
Regular price $142.00
$710 (

à la carte

 tuition per class)

- $142 (20% tuition deposit required to secure a seat in class)

= $568

 

balance of tuition (invoiced as monthly payments, June through May*)
Class Description:
In this course, students will be introduced to the fundamentals of painting through a variety of media. Students will work with watercolors, gouache, and water-soluble oil paints. Students will start with watercolors and work up to oil paints, learning how the elements of art apply to each new medium. Assignments will explore how to properly mix and use colors, use value to imitate lighting, work from observation, and more. Exercises will gradually become more advanced from the beginning sketches to a completed piece. 
Credits: 1 (Elective--please note that this class is NOT an honors-level course; the unweighted grade will affect the overall GPA)
Prerequisite: None
Mtg. Days:  Mon., Tues., Wed., & Thur (4 days each week)
Required Materials: 
Palette

(Make sure your palette has a cover to preserve paint between sessions

) 

Brushes 

(You will need synthetic brushes in a variety of sizes and shapes including filbert, flat, and round. Please make sure to have small brushes for detail work.)

Blue Painter's Tape 

9 x 12 Oil and Acrylic Pad

 

Pad of 9x12 Watercolor Paper

 

Sketchbook

 

Watercolor Paints

 

Gouache

 

Oil Paints

 -

 please make sure oil paints are water-soluble. 

Linseed Oil

 

Small glass jar or cup for water 

Paper towels/rags 

Palette knife

 
*Registration & Payment Plans: Upon registration, Logos Online will create a monthly payment plan for the balance of tuition, paid in monthly installments with the first payment due June 1 and the final payment in May. Families who register after June 1 will be invoiced immediately for the months that have transpired at the time of registration. For example, if a student registers on August 25, the family will pay the 20% deposit as well as the monthly payments for June, July, and August. They will then continue forward with the monthly payment plan for the balance of tuition.